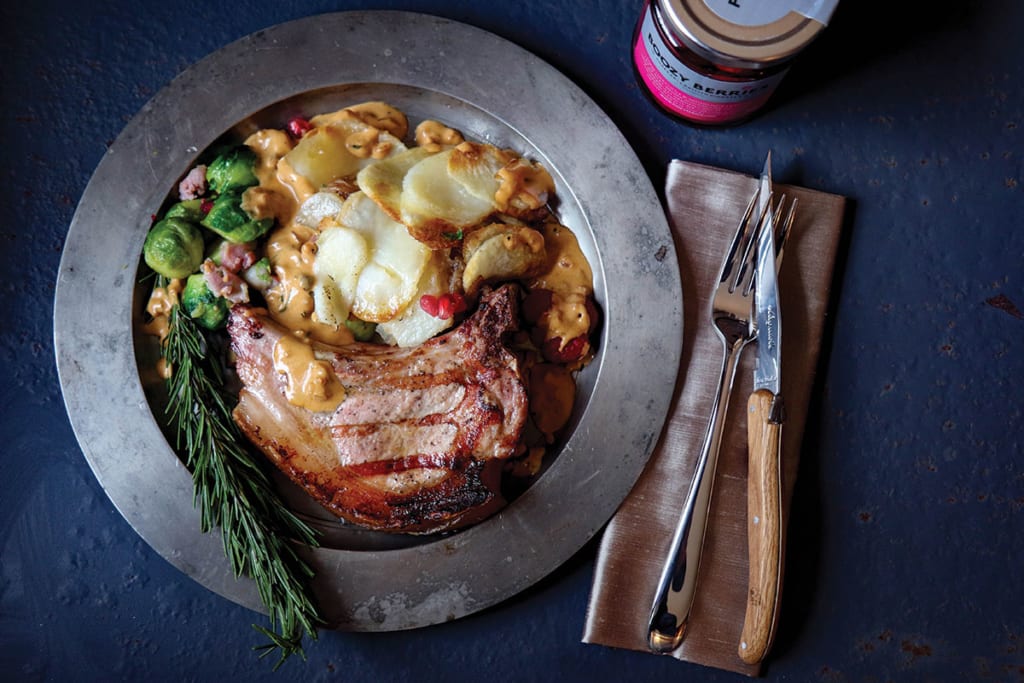 Method
Add butter & shallots to the pan used to cook the venison or pork. Sauté for 2 minutes, stirring often.

Off the heat, add the Boozy Berries and gin juice to the pan. Set it back over high heat and let it cook down a little while deglazing the pan with a wooden spoon.

Add the crushed juniper and rosemary, then the demiglace or reduced stock.

Reduce over high heat until a spoon dragged through it leaves a trail, about 4 to 5 minutes. Turn off the heat, let any bubbling stop, gently whisk in the sour cream.

This sauce works well with game, meaty fish and pork.
In the picture we served the sauce with pork chops, Boulangère potatoes and Brussel sprouts stir-fried with bacon and roast chestnuts.
Boozy Berries Gin & Juniper sauce
A creamy, tangy sauce that works a treat with venison or pork.
SERVES: APPROX 4
Ingredients
1 shallot, sliced
3 tbsp butter
2 tbsp Boozy Berries with plenty of juice
1/4 cup demi-glace or reduced stock
1 tsp ground juniper
2 tsp chopped fresh rosemary
1/2 cup sour cream or crème fraîche